Side Outlet 90s, aka, "pvc corners", aka, PVC 3 ways in stock!
4-Way PVC plastic pipe fittings in stock!, Order 4 ways online
Order PVC 5 ways online
Order PVC 6 ways online
5 ways, Slip T's & Snap T's are on the More PVC plastic pipe Fittings page

Order Quick Disconnect Unions online
Ball Valves, Gate Valves, Diverter Valves, etc.
More PVC Plastic Pipe Fittings


Flapper Style Check Valves for backflow prevention

We stock a huge assortment of pvc plastic pipe fittings. Especially hard to find pvc pipe fittings like garden hose to pvc slip socket, or pvc hose barb to garden hose fittings. Of course we also stock PVC 90, 45 and 22 degree plastic pipe fittings, 11 degree plastic pipe fittings, PVC T Fittings, Male and Female adapter plastic pipe fittings, pvc couples, PVC reducer bushings, PVC Wye, aka Y, plastic pipe fittings in 1", 1.5" and 2". Some sizes available in both "true Y" and the 45 degree T/Y fitting style.

We also carry such hard to find items as extra deep PVC Couples for high pressure situations, specialty fittings for the pool and spa manufacturers, irrigation fittings and plumbing fittings. And if we don't have it in stock, we can usually get it in just a few days.

(Note: there are very few 5" fittings made, so if you are calling for 5" pvc pipe and/or 5" pvc pipe fittings, don't expect a miracle. A few of them we can get, but they will probably not be in stock, we'll have to special order them.) Also we can't do PVC pipe unless you can use lengths 8' or shorter. Shipping PVC pipe is very expensive and even shipping 8' lengths via common carrier (UPS, Fedex, DHL, etc) is not cheap. We will try to solve YOUR pvc pipe and fitting problems, but we can't solve all of them.

Order Bulk Head Fittings Online

Click here to order PVC Pipe Manifolds & Distributors

Click here to order PVC Wye plastic pipe fittings

SPECIALS
See the Clearance Page

Schedule 40 & 80 PVC Fittings, please click here to email your quote request for the best prices.

Click here to order extra deep PVC couples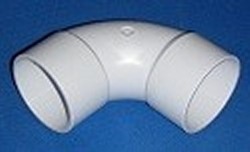 Sweep 90's


NEW: Spring Check Valves, pvc socket by pvc socket, full flow. Order Spring Check Valves online
NEW: Gate Valves, pvc socket by pvc socket

Click here to order gate valves
1", 1.5", 2", 2.5", 3", 4", 6", 8" 10" & 12" pvc gate valves

6 way manifold, 2 1" ports on the ends, plus 4 1/2" ports along the spine. Click here to order PVC Manifolds



6 way clear manifold, 2" slip on one end, 4 - 3/4" ports in the middle and other end 2" spigot or 1.5" slip. Click here to order PVC Manifolds


More PVC Fittings